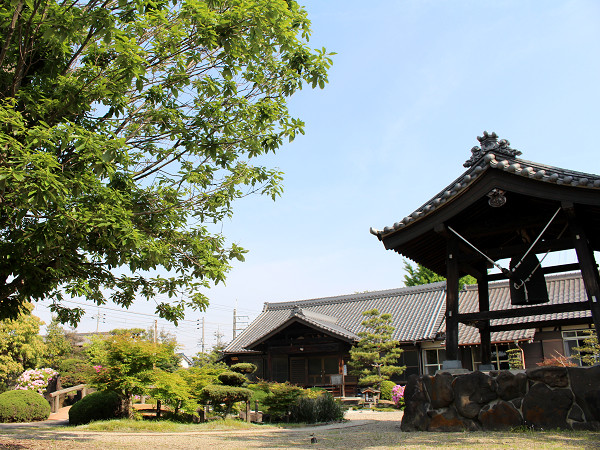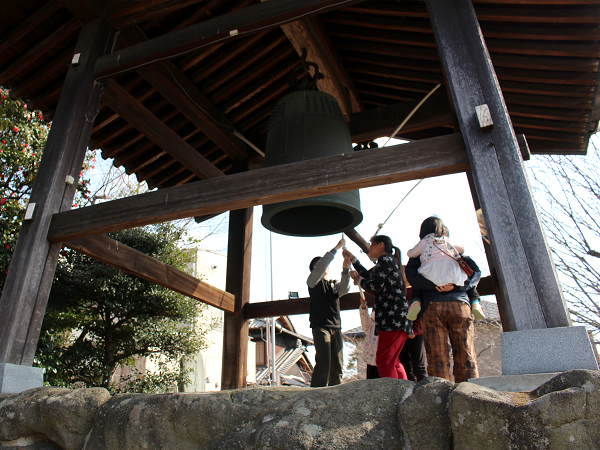 細野要斎著『感興漫筆』第十三巻には、鐘の銘の序に「白坂雲興寺第7世の開基」鐘の銘は「貞享二年乙丑十月十五日加乗寺白卍山の撰なり」との文があります。1685年
(0/1685)
に鋳造された名鐘で、音色がよく 明治の頃アメリカへ売られそうになったこともありましたが、檀家総代が横浜港まで出向いて買い戻したという逸話が載っています。この鐘は戦前まで朝11時と夜9時に時を告げていましたが、戦時の金属供出の為、1983年
(0/1983)
年に新調したものが現存しています。現在は、大晦日の除夜の鐘、恩田の集い、行事の日の朝に時を告げています。
境内にある龍神池は、元は東西に長い池でしたが、1912
(0/1912)The Nagoya electric railway(Meitetsu Inuyama line)
が敷かれた際、池の西半分が埋め立てられました。池のほぼ中央に石がひとつあり、かつてはこの石を挟んで、南北に渡り石があったそうです。池の水は湧き水で満たされ、山門前の参道の溝に流れていました。池にはカメがたくさん棲んでいて、戦前には、子どもたちがカメを捕まえて家に持ち帰ると、親たちは祟りを畏れて、カメに酒を飲ませて池に放していました。
名鉄犬山線が敷かれるとき、龍神池を埋め立てる工事をすると祟りがあると言われたので、工事が進まなかったそうです。そのために、この池のところでは線路がカーブになっているという逸話が残されています。
5/5/2012, is relocation to a new building of the Museum was held.
To begin with, to ryujin pond and hatchery goldfish FRY(放生会), Followed by individual visitors for more than 200 persons who are candle to light(Thousand light offerings)The temple purified, colored. The Chery are events for red bird in the sky(Vermilion bird-shaped in the cloud)1 shaking that seems the Epicentral earthquake occurred(When in the Buddhist scriptures, the Buddha or, is written as a sign to dark when things happen in the 6 動zu).
After that, many of you watched attentively, from the Temple of knowing to the new shrine relocation ceremony was held. This was aired on CBC TV's "hand".
Plan this is an aside, but at that time, the new main building was, but did not advance story to think. Realized that "from the thinking man's convenience is useless, first of all, that of God. To refresh of stale Dragon shrine "and. The new relocation ceremony three days after the encounter, came at the end of the next 25 years the inaugration of new.
Ryujin is truly miraculous.
West of the main building(Front left)The picture of Kobo Daishi enshrined, has been. In addition, stands a stone carved "Nishiharu 21 Daishi pilgrimage' to the South of the chapel Bell entry,.
Kobo Daishi Kukai is proselytizing sects beyond familiar from a lot of old Japanese and Temple had been made.
Beneath the pines before the temple enshrines a White Dragon shrine. The Museum is a whitish stone with a size of 30 cm.
Originally the city naeseo Noriyuki kept to residents over nearly 40 years, enshrined and worshipped as the guardian of the House alone to protect you, and lost her husband has been difficult and was a donation to the 0/2014 summer.
This page has been automatically translated. Please note that it may differ from the original contents.